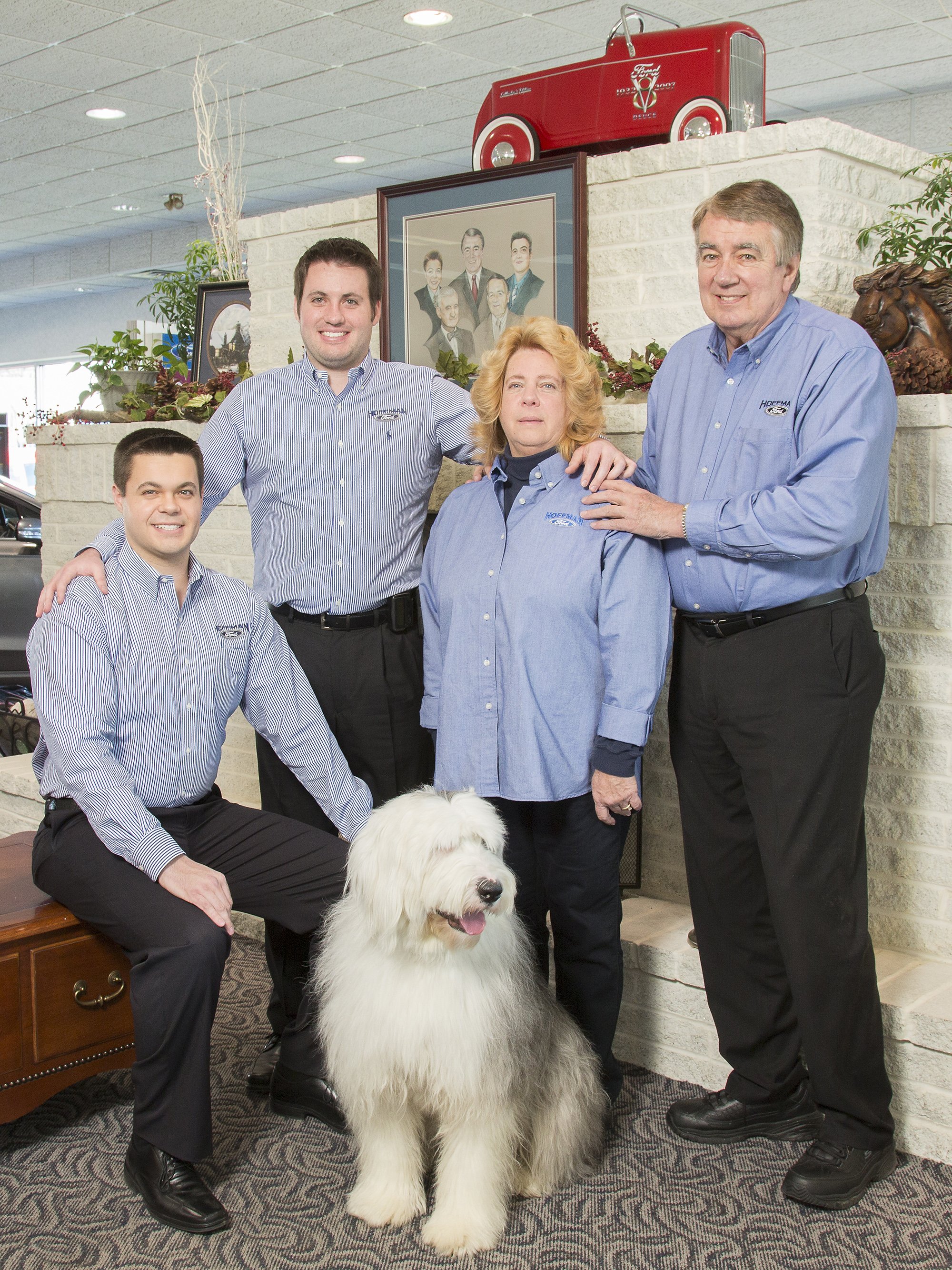 A Letter from the Hoffman Family
Welcome to Hoffman Ford! Located on Route 22 in Colonial Park, just outside Harrisburg. We are one of Ford's premier car dealerships in Harrisburg, PA and the state. Serving all of Central PA, including Harrisburg, Mechanicsburg, Camp Hill, and Hershey, we are a multi-generational family business that has grown from humble beginnings. Founded in 1953 in Highspire, PA, our current dealership is now located in Colonial Park. As we entered 2015, our family and team celebrated our 62nd year of serving customers in our community.
The Hoffman Ford Team comes to work every morning with one goal in mind! Our goal is to serve you and ensure that you have a premier customer service experience, whether purchasing a new or pre-owned vehicle, servicing your current vehicle, or repairing your vehicle. A one of the premier car dealers in Pennsylvania, we work to accomplish this goal by striving to have our team members as engaged and passionate about this business as we are. We believe that happy employees make happy customers!
We also strive to have a positive impact in the area where we live and work. Our family firmly believes in giving back to our community. We try to lead by example and encourage our team members to become involved in the community as well. Our company works closely with numerous area school districts, sports teams, charities, local emergency services, and many other community events throughout central PA. In 2012, we held our first annual Hoffman Ford Family Funfest & Community Day as a way to show our appreciation to our customers. And we plan to continue this tradition for many years to come!
The Hoffman Ford Team works passionately to make you feel at home when visiting our dealership. As a customer, you become a part of our Hoffman Ford family from the moment you walk through the door. We care deeply about making sure you are a happy and satisfied customer when you walk out the door, but if you ever feel that we are not doing our best, please come talk to us. Unlike most car dealerships in Harrisburg, PA, our doors are always open, and you will always find a Hoffman team member willing to help in any way possible! We look forward to the opportunity to earn your business and welcome you to the Hoffman Ford Family!
Sincerely,
The Hoffman Family
Dealership History
With the intent of building and servicing Ford race cars, Hoffman Ford was originally founded in the late 1940's by Earl Hoffman Sr. in Highspire, PA. Mr. Hoffman, Sr. worked closely with former Ford President Lee Iacocca to convert the operation into an official Ford dealership in 1953. Earl Hoffman, Jr. joined the business in 1963 upon his graduation from Penn State University and immediately began learning the business.
Due to its close proximity to the Susquehanna River, Hoffman Ford was severely damaged by Hurricane Agnes floodwaters in 1972, and again by another storm in 1975. In 1976, the decision was made to move the dealership from Highspire to its current location in Colonial Park, where we knew it could compete with the other car dealerships in Harrisburg, PA.
Construction took over a year to complete and the new Hoffman Ford was opened in 1978. As car dealerships in Harrisburg, PA continued to grow over the next few decades, our dealership also underwent numerous renovations and expansions to meet the needs of our customers. Earl Hoffman, Sr. retired from daily operations in the late 90's and Earl Hoffman, Jr. assumed the position of President/CEO of the company. The third generation of the Hoffman Family began their involvement with the business in mid-2010 and again in late 2012. Hoffman Ford is celebrating its 62nd year of serving our customers and our community in. For an expansive inventory and fabulous service, stop by Hoffman Ford today!