Ford Service Center Serving Harrisburg, Hershey, Camp Hill and Surrounding Areas
As you travel during your daily commute or on a long-distance trip, it's crucial to monitor the status of your car, truck or SUV. A vehicle service or "tune up" maintenance appointment keeps your vehicle in top shape. Oil, filters, tires and more call for replacement over time. The key to effective maintenance is to schedule routine visits with a mechanic to inspect your vehicle periodically.
Luckily, Hoffman Ford has an experienced team of technicians available to service and repair your car, truck or SUV. We service Ford vehicles at our Colonial Park location to ensure your ride is running smoothly.
Ford Vehicle Maintenance in Harrisburg
What's included in a service appointment at Hoffman Ford? Deciding which components need replaced will depend on the following factors:
How often you travel
Climate conditions
How often you tow additional weight
Age of vehicle
Date of last service
As we navigate through this rapidly evolving situation together, Hoffman Ford assures you that we are taking every precaution, to provide a safe environment for both our clients and our team members. We view this effort as paramount, and above all else. The health of our clients and team members is and always will be our top priority.
To support our community and those in need of our services, Hoffman Ford will continue to be OPEN and available for our first responders, local life sustaining businesses, as well as your own individual service, parts, and collision repair needs to provide you with reliable means of transportation!
We are taking the measures listed below to ensure as best as possible the safety of our customers and team members:
We are enhancing our daily cleaning efforts. The Hoffman Ford staff will work in tandem with our cleaning company to increase both effort and time spent sanitizing our dealership's most frequented areas; including but not limited to, customer lounges, restrooms, and offices.
We are placing disinfecting cleaner throughout all touch points in the dealership, offices, front desk, service, and parts counters. All team members are urged to use these cleaning supplies frequently and anytime they are within 3-6 feet of another person. We have a healthy inventory of cleaning products, wipes, hand sanitizers, soap, etc., readily available to be used at will.
Our team members are practicing social distancing and eliminating any unnecessary team member to team member interactions./li>
We have isolated our departments to eliminate interactions between sales, service, collision, and office team members.
Our team members are working in shifts. These shifts are scheduled so there is no interaction.
Outside vendors are no longer allowed into the store.
We have set up temporary locations in the store that will allow for social distancing when it is necessary for customers to sign paperwork.
When interacting with a customer's vehicle team members will carry sanitize cleaner, to wipe door handles, steering wheel, and gear shift. This will be done at entry and exit.
Team members will disinfect desktops, door handles, bathroom sinks and other high touch areas every 2 hours.
No equipment is to be shared. This includes desk phones, cell phones, computers, pens, etc…
There will be no food delivery into the store.
All team members who can work from home and do not need to be in the store will work from home.
Any team member who feels sick is required to stay home and inform his or her direct manager.
In these uncharted times, we want to be as flexible, considerate, and attentive to you and your automotive needs and we will strive to do our very best to provide the highest degree of normalcy to your everyday transportation needs.
Ford Car, Truck and SUV Service Center
Your vehicle demands frequent oil and oil filter changes. Fresh oil allows your engine to run properly, increases fuel efficiency and includes a visual safety inspection. Technicians at Hoffman Ford will encourage you to set up oil change appointments every 3,000 to 7,000 miles.
Each tier of service from Hoffman Ford includes everything in the stage prior, with attention to necessary repairs throughout your ownership.
Interim Service
Most vehicles with over 20,000 miles added each year will require more than one annual visit. This level of service typically calls for an oil change, tire rotation, new windshield wipers and topping off fluids under the hood.
Full Car Service
This level of service caters to those who get their vehicle checked once each year. Lower-mileage drivers can check in their vehicle for maintenance in the following areas:
Brakes
Engine
Wheel bearings
Shock absorbers
Air conditioning system


Major Service
Major services focus on a vehicle's spark plugs, fuel filters and suspension. Our service center may recommend this package every 24 months, since it is a complete check of your Ford vehicle.
Schedule Your Next Repair Service at Hoffman Ford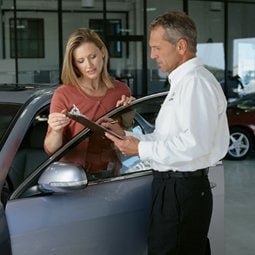 Ford owners can regularly service their cars, trucks and SUVs for reliability and improved performance. If you are unsure of the condition of your vehicle, our mechanics are happy to steer you in the right direction. Contact us today for more information about routine maintenance and to schedule an appointment.