Ford Service Center Serving Harrisburg, Hershey, Camp Hill and Surrounding Areas
As you travel during your daily commute or on a long-distance trip, it's crucial to monitor the status of your car, truck or SUV. A vehicle service or "tune up" maintenance appointment keeps your vehicle in top shape. Oil, filters, tires and more call for replacement over time. The key to effective maintenance is to schedule routine visits with a mechanic to inspect your vehicle periodically.
Luckily, Hoffman Ford has an experienced team of technicians available to service and repair your car, truck or SUV. We service Ford vehicles at our Colonial Park location to ensure your ride is running smoothly.
Ford Vehicle Maintenance in Harrisburg
What's included in a service appointment at Hoffman Ford? Deciding which components need replaced will depend on the following factors:
How often you travel
Climate conditions
How often you tow additional weight
Age of vehicle
Date of last service
Our service center can complete interim, full, major and manufacturer services for the upkeep of your Ford model. We reference your vehicle's service book to properly care for your truck, SUV or car. Regular maintenance continues your vehicle's life expectancy to keep it running at performance levels as long as possible.
Ford Car, Truck and SUV Service Center
Your vehicle demands frequent oil and oil filter changes. Fresh oil allows your engine to run properly, increases fuel efficiency and includes a visual safety inspection. Technicians at Hoffman Ford will encourage you to set up oil change appointments every 3,000 to 7,000 miles.
Each tier of service from Hoffman Ford includes everything in the stage prior, with attention to necessary repairs throughout your ownership.
Interim Service
Most vehicles with over 20,000 miles added each year will require more than one annual visit. This level of service typically calls for an oil change, tire rotation, new windshield wipers and topping off fluids under the hood.
Full Car Service
This level of service caters to those who get their vehicle checked once each year. Lower-mileage drivers can check in their vehicle for maintenance in the following areas:
Brakes
Engine
Wheel bearings
Shock absorbers
Air conditioning system


Major Service
Major services focus on a vehicle's spark plugs, fuel filters and suspension. Our service center may recommend this package every 24 months, since it is a complete check of your Ford vehicle.
Schedule Your Next Repair Service at Hoffman Ford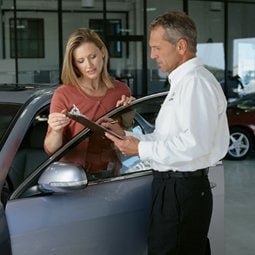 Ford owners can regularly service their cars, trucks and SUVs for reliability and improved performance. If you are unsure of the condition of your vehicle, our mechanics are happy to steer you in the right direction. Contact us today for more information about routine maintenance and to schedule an appointment.