Living in Pennsylvania or another northeastern state means you need to prepare for winter when you get hit with a classic Nor'easter. When freezing temperatures, snow, ice and sleet hit our roads, it can be a challenge to navigate through the elements. Even with the help of road salt, driving in winter weather without the right vehicle can compromise your safety.
In this guide, we'll discuss what makes a car good for snow and the best Ford for winter, whether you're looking for advanced technology or four-wheel drive. We'll help you take the winter season head-on with a Ford vehicle made to withstand any environment with high levels of performance and safety.
Best Ford Vehicles for Snow

So, what makes a car good for snow? Determining the best vehicle for snow is not a one-size-fits-all situation. Ford carries a range of vehicles, including trucks, SUVs and passenger cars, to suit your needs.
When the colder months roll around, snow and ice reduce the friction between your vehicle's tires and the road, effecting your maneuverability, control and braking. According to the Federal Highway Administration, more than 
70 percent of the United States' roads
 are in snowy regions where about 70 percent of the population lives. Those areas also receive an average of five inches of snowfall each year as of 2017.
According to one 2018 study, 9,802 crashes occurred in Pennsylvania because of winter conditions, such as snow, sleet and freezing rain. The number of crashes accounted for 7.6 percent of all the weather-related accidents for the year.
Of those crashes, 7,903 occurred from snow or slushy conditions, and 4,468 resulted from ice. Ice and snow accounted for 9.7 percent of the accidents on the road in 2018.
While weather and road conditions aren't always ideal, Ford vehicles can help keep you safe while giving you the confidence to drive in winter weather. Five Ford technologies include:
AdvanceTrac® Electronic Stability Control

Rear and front-facing camera washer

Remote start

Terrain Management System with four-wheel drive
Because unfavorable weather conditions affect your ability to handle a vehicle, as well as your visibility, it's imperative to invest in a vehicle that can get you through various conditions safely. Ford's available smart technology helps you venture through what seems like the impossible.
What Makes a Car or Truck Good in the Snow and Ice?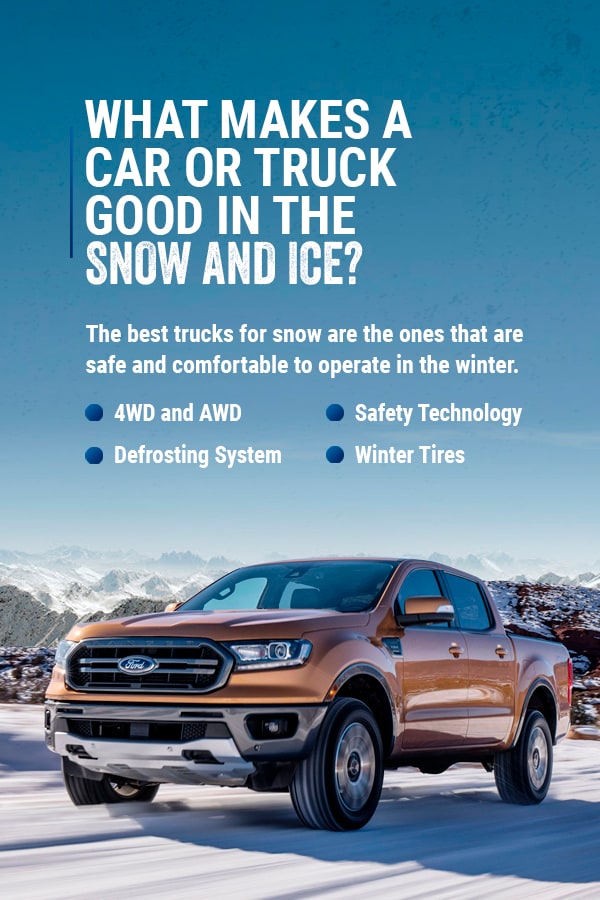 The best trucks for snow are the ones that are safe and comfortable to operate in the winter. Even if you're driving a car or SUV, impressive performance and handling are key elements. Your vehicle should also protect from adverse weather.
When searching for the right solution, look for reliability characteristics, such as:
1. 4WD and AWD
Four-wheel and all-wheel drive are beneficial to any vehicle operating in snow and ice. They allow you to descend steep slopes, as well as slick and flat surfaces, with better control by delivering low-range gearing for safe operations.
With 4WD, the system locks the front and rear axle speeds. The tire with the least amount of traction spins as fast as the wheel on the opposite axle. Also referred to as 4x4, the two-axle drivetrain system doubles your vehicle's traction.
Accelerating in slick winter conditions with 4WD will allow you to move forward with ease. However, you must switch the four-wheel drive on and off depending on the conditions you're driving in, because it only works in smooth conditions. Turn it on as you're moving across ice or snow and off when your hit bare pavement. If you leave it on while driving on normal road conditions, you can destroy your drivetrain.
An all-wheel drive system has an open differential - meaning, when you try to speed up on a slippery road, only one wheel will spin freely while the other three receive no power. AWD increases your safety by delivering all the power to the wheel with the least amount of grip. Therefore, the wheels with the most traction can prevent the vehicle from sliding off course.
AWD is excellent on flat surfaces but doesn't always perform well when driving up steep hills. So, the drivetrain system often comes with electronic devices to match the wheel speeds between the rear and front axles. Compared to 4WD, where you are in control of its operations, AWD works all the time without you having to get involved.
2. Defrosting System
A functioning and reliable defroster is essential during the winter for maintaining proper visibility. A defroster relies on a good air conditioning system to circulate air onto your windshield to melt ice and snow. The AC unit also dries the moisture in the air that can fog up your windows, limiting visibility.
Search for a vehicle with both a front and rear defroster. The system blows a massive volume of air onto your windshield to dissipate any condensation. When the temperature drops below freezing, the condensation can freeze to ice or frost. The defroster can then thaw your windshield.
3. Safety Technology
Today, advanced safety assistance is mandatory on all modern vehicles to help you get through adverse conditions.
Antilock brakes: 

An antilock braking system (ABS) prevents your vehicle's wheels from locking up, especially when sliding on an icy road. The automated system uses threshold and cadence braking techniques at a faster rate than most drivers can handle on their own. The ABS delivers improved vehicle control by allowing you to focus on steering.

Stability control: 

Stability control monitors the speed of each wheel to determine if your vehicle is on the verge of spinning or sliding. It works via the ABS and applies calipers in individual intervals to control the slides.

Traction control:

 

Similar to AWD, traction control disconnects power to help avoid spinning and sliding when drivers accelerate too fast on slippery conditions. The safety technology helps slow you down.
4. Winter Tires
While the two different drivetrain systems are crucial to get you through the snow and ice, you won't get far if your truck, car or SUV doesn't have the right tires. Driving with the correct set of tires is debatably the most important component on your vehicle during winter.
Winter-weather tires are essential to get you through even the toughest blizzards. Tires are the only parts that come in contact with the road and whatever elements are on the pavement. As such, the drive systems and brakes can only take advantage of the available traction properties of your tires.
Winter tires are ideal because all-weather options are suited for temperatures above 45 degrees Fahrenheit and light winter driving. Winter versions are made from rubber compounds that are pliable at low temperatures. They also have pores to help grip the ice as the material wicks away the melted snow or ice. Winter tires are flexible, remain in contact with the road's surface and deliver a consistent grip across changing road surfaces.
You don't want to keep your vehicle's sport or summer tires on because they are engineered for off-roading and dry pavement. If you're considering using chains or studded tires, they may be necessary if you drive off-road.
The different characteristics of a vehicle during adverse weather are critical to have if you live in an area prone to snow, ice and sleet. Because newer models have reliable engines, you may want to avoid driving an old beater. It may make you feel less anxious driving in the snow with a car that has a few dents and scratches, but operating a reliable new or used car will give you peace of mind when it comes to safety and handling.
What Are the Best Trucks for Driving in Snow?
Compared to passenger cars, pickup trucks have longer wheelbases, giving you more time to correct any spinning or sliding when driving on a sketchy road. Pickups also have more ground clearance, which is great for clearing deep snow. Although it's rare to find deep snow on the road, it can get you out of stickier situations.
Is the Ford F-150 Good in Snow?
Although pickups lack weight distribution by carrying most of their weight over the front tires, the Ford F-150 is good in snow. Thanks to its 4WD and smart technology, the truck can adapt to the changing road conditions. You often won't need to add weight to the bed of your vehicle for traction because the F-150 takes care of it for you.
For example, the Ford F-150 comes standard with a 4x2 drivetrain that does well to get you through slippery roads. But you can also upgrade to a 4x4 drivetrain to give you enhanced traction. The all-wheel drive option boosts handling. The vehicle even comes with all-season tires capable of withstanding light variations of snow and rain, or you can customize the truck with winter tires if necessary.
The F-150 Limited V6 EcoBoost® is one of the most powerful and advanced models to date. If you're looking for a truck with innovative technology like the Pro Trailer Backup Assist™, a 360-degree camera system and FordPass™, the F-150 is your go-to. It also has a luxurious interior to keep you comfortable in the winter.
The new 2021 F-150 has a maximum towing capacity of 13,200 pounds and a max payload capacity of 3,273 pounds. It has elite power and performance to keep you safe when the roads become slick.
New and used Ford F-150s can handle whatever you put in the bed, whether it's snowmobiles and ATVs or firewood and coal. Most models even have smart towing features that notify you about connectivity issues and blind spots on areas that cover the trailer.
What Are the Best SUVs for Driving in Snow?
Sports utility vehicles, or SUVs, are excellent choices when you're searching for a new or used car to get you through the harsh winters. SUVs have a more balanced weight distribution and a shorter wheelbase compared to trucks, which also allows them to perform well in the snow. The best SUVs for snow are:
Is the Ford Explorer Good in the Snow?
The Ford Explorer performs well in the snow because it can handle a multitude of road conditions. With the intelligent Terrain Management System (TMS) with 4WD, the technology monitors and adjusts the vehicle's handling and traction based on changing driving conditions. The TMS delivers exceptional and fast adaptation to prevent the loss of traction.
Its snow mode will limit torque to the wheels to help prevent the vehicle from sliding. It also allows you to shift from one of four settings to match the terrain you're on, aiding you through specific conditions.
The new 2021 Explorer also has the Terrain Management System, but the new generation has seven different powertrain calibrations and traction controls. It changes with the road conditions or driving situations you're in within milliseconds. It also has the Ford Co-Pilot360™ feature that helps with emergency braking and blind-spot warnings. The base engine of the 2021 Explorer has 300 horsepower, while the Platinum model has 365.
Is the Ford Edge Good in the Snow?
The Ford Edge delivers loads of conveniences and comforts to make winter driving easy. The SUV comes standard with an EcoBoost engine that's 2.7 liters and produces 335 horsepower and 380 pound-foot torque. Other features include four-wheel anti-lock brakes, hill start assist, traction control and an all-wheel drive system. Heated front seats and a steering wheel are an option to keep you comfy on freezing winter mornings.
The Ford Edge ST model has adaptive cruise control, even when you're driving on snow and ice. The SUV recognizes obstacles and cars in front of it and slows down when needed, even during adverse weather conditions. It also considers braking distance on ice, so you can put your trust in its safety features.
Other Edge ST technology involves Lane Centering, Evasive Steering Assist and the Synch 3 operating system.
Is the Ford Ecosport Good in the Snow?

The Ford Ecosport is a compact crossover SUV that drives well in the snow and other elements. While front-wheel drive is standard, the Ecosport also offers intelligent 4WD and AWD options. All-wheel drive gives you more traction even when driving on snow and ice. You can also operate through multiple terrains with the help of the four-wheel disc anti-lock brake system.
The SUV is available in four models with varying specifications that include the Ford Co-Pilot360™ technology and heated steering wheel and seat options. Even though the Ecosport is more compact, it delivers exceptional visibility for safer traveling, along with excellent towing capacity with a tow rating up to 2,000 pounds.
With its comfortable interior and intelligent technology, the Ford Ecosport remains stable and predictable on ice and snow.
Is the Ford Escape Good in the Snow?
The Ford Escape is also a compact crossover with four-wheel drive as an option to make for a smooth and safe operation. If the SUV detects any sign of slipping, it will transfer torque from the front to ensure you have the right amount of traction and handling.
It also has AWD Disconnect where it disengages the rear driveline when not needed, reducing drag and energy consumption. Even the SYNC 3 system allows you to check the weather, connect to your smartphone and get directions.
The new 2021 Ford Escape has hybrid options, along with selectable drive modes to boost driving handling and experience. You can choose the slippery mode, which helps you traverse through varying road conditions.
The system will modify the electronic stability and traction control systems without you having to move a finger. The slippery mode also adapts to ice and water, and a deep snow mode keeps the crossover under control in more intense situations, making the Ford Escape good in the snow.
What Are the Best Cars for Driving in Snow?
Sometimes, you don't always need a larger vehicle to handle the harsh winter elements. The best cars for snow have similar features of trucks and SUVs, with several differences, like a lower clearance.
Is the Ford Fusion Good in the Snow?
As a mid-size car, the Ford Fusion is a favorite among drivers for its safety, reliability and economical pricing. It also delivers exceptional visibility of the road to help you stay aware of your surroundings.
The Fusion has hybrid and plug-in hybrid options on top of standard models, totaling eight available cars. All-wheel and four-wheel drive are upgrade options, too. The Ford car has sensors that balance torque among the front and rear wheels to give you enhanced handling and better traction.
Other Fusion features include four powertrain options, customizable heated steering wheel and front seats, and a remote start.
Ford Motor Company has a line of winter-weather vehicles ready to take on the easiest and worst winter road conditions, whether you prefer pickup trucks and large SUVs or compact crossovers and cars.  
Buy a New or Used Vehicle for Pennsylvania Winters at Hoffman Ford
When you're ready to upgrade to a set of wheels that can handle the winter weather, Hoffman Ford is here to deliver the perfect solution. Getting through the winter with a high-performing and safety-centered truck, SUV or car will allow you to enjoy more road trips and daily commutes.
If you're looking for a new or used vehicle to get you through the PA winter months, browse our inventory or reach out to our engaging team. We are a premier car dealership for Ford in Harrisburg, PA. As a multi-generational family business located in Colonial Park, Hoffman Ford ensures superior customer service.