The Ford Motor Company is known for its iconic F-150 series that debuted back in 1975. It's a truck that can tow everything from ATVs, cars and heavy equipment to loads of construction materials and stacks of tools. The new 2021 model, along with the 2020 and 2019 models, all have rugged components that deliver exceptional payload capacity. The F-150 engine towing capacity is also best-in-class, no matter if you're at the worksite or towing for recreational purposes.
Hoffman Ford has new 2021 Ford F-150s available, as well as previous generations to match your towing needs.
What Makes the Ford F-150 Ideal for Towing Heavy Loads?
Ford has proven the F-150's success by advancing it through a multitude of industry changes - with some of its best upgrades being under the half-ton vehicle and inside the engine. The F-150 towing capacity and towing capabilities are best-in-class. The full-size Ford pickup can take on your most challenging expeditions with ease, making your life easier.
While the Ford F-150 towing capacity is better than anything else on the market, the truck's capability depends on several factors, such as its engine, cab, drivetrain and bed configuration. Each component plays a role in how much weight the truck can handle.
Advanced features found within the pickup deliver easy and safe towing to give you confidence when operating in different environments with various loads. The half-ton pickup outperforms others in its class, whether you're towing or towing massive loads. Ford's innovative truck makes your toughest tasks look simple.
Ford F-150 Engine Options
With the release of the new 2021 Ford F-150, truck enthusiasts have been excited to try out its top features. For example, its different trims include:
XL

XLT

Lariat

King Ranch

Platinum

Limited

Raptor
Ford created a six-engine lineup for the 2021 Ford F-150 series, which all have a 10-speed transmission except for the 3.3L Ti-VCT V6. The 10-speed comes with the Tow-Haul, Normal, Snow-Wet, Sport and Eco-Select modes, so you can tailor your truck's performance to your situation.
Ford F-150 truck engine options for the 2021 series include three EcoBoost® V6 versions, one V8, one V6 and a turbo diesel.
2.7L EcoBoost® V6

3.5L EcoBoost® V6

High-Output (HO) 3.5L EcoBoost® V6

3.3L Ti-VCT V6 

5.0L Ti-VCT V8 

3.0L Turbo Diesel
The 2.7L EcoBoost® F-150 pickup has 325 horsepower (HP) and 400 lb.-ft. of torque output. The 375 HP 3.5L EcoBoost® has 470 lb.-ft. torque, making it the most powerful option within the 2021 series. If you're looking to tow and haul considerable loads on a daily or weekly basis, the 3.5L EcoBoost® may be your best bet.
The third engine option for the Ford pickup is the HO 3.5L EcoBoost® with 510 lb.-ft. torque and 450 HP. The 290 HP 3.3L Ti-VCT V6 has 265 lb.-ft. of torque power, and it's the only 6-speed automatic transmission. It's the standard engine for the 2021 Ford F-150s.
The 5.0L Ti-VCT V8 has 395 HP and 400 lb.-ft. of torque output. The engine features a port-fuel and direct-injection system. It has two injectors per cylinder, which helps improve vehicle efficiency and power. The final engine option is the 250 HP 3.0L Turbo Diesel that showcases 440 lb.-ft. of torque.
With Ford's line of workhorse engines, the F-150 will meet and exceed your expectations when it comes to a diverse set of towing applications. They showcase optimized gear spacing, three overdrive gears and rear outboard shocks for stability.
The 10-speed automatic transmission even maximizes gear ratios and shift points for more power, fuel efficiency and low-rpm torque. Each of the six engine options for the 2021 F-150 has been tested to ensure they meet top-tier reliability and durability standards.
While the 2021 Ford F-150s are fresh off the manufacturing line, they don't differ too much from the 2019 and 2018 series. The two previous lineups have the same engine options, like the 2021 F-150, except for the HO 3.5L EcoBoost®.
Ford F-150 Towing Capacity

With six engine options available, it's time to get into the details of the F-150 towing power and its payload capacity ranges. The F-150 truck series is the preferred choice for towing among professionals and enthusiasts because of its sheer power and towing range. The top features you can get include the 2021 XL Regular Cab with 5.0L Ti-VCT V8 engine that has an eight-foot bed, plus 4x2 and 18-inch heavy-duty wheels.
If you're looking for a truck that has other premier features, you can still upgrade to a payload package to increase your carrying capacity. The 2021 Ford F-150 can achieve the maximum tow rating of if you equip your Ford with the 3.5 L EcoBoost® engine, combined with the XL SuperCrew® 4x2 and Max Trailer Tow Package.
You know the engines are best-in-class, but how much can the F-150 trucks really handle?
The half-ton pickups have a maximum tow rating of 13,200 lbs. and a payload capacity of 3,270 lbs. Other F-150 specifications include:
Bed length:

 

5.5-ft., 6.5-ft. or 8-ft.

Cargo box volume:

 52.8 cu.-ft., 623 cu.-ft. or 77.4 cu.-ft.

Curb weight:

 

4,069 - 5,697lbs.

Gross weight:

 6,100 - 7,050 lbs.

Gross vehicle weight rating:

 6,070 - 7,850 lbs.

Minimum towing capacity:

 

5,000 lbs.

Standard towing:

 

5,000 - 8,000 lbs.

Truck length:

 

209.3 - 250.5 inches
The 2021 2.7L EcoBoost® engine has a towing capacity of 9,000 lbs. and a maximum payload capacity of 2,470 lbs. The Ford F-150 towing capacity of the 3.5L EcoBoost® is 13,200 lbs., while the payload amounts to 3,230 lbs. It's similar to that of the 2019 Ford F-150 engine.
When it comes to the HO 3.5L EcoBoost® engine, it's available only for the F-150 Raptor and Limited models. It can either have 8,000 lbs. or 11,100 lbs. of towing capability and 1,200 lbs. or 1,520 lbs. of payload, respectively. The 3.3L Ti-VCT V6 can tow up to 7,700 lbs. haul a max of 1,990 lbs.
If you're looking into the 5.0L Ti-VCT V8 engine, you can haul up to 3,270 lbs. and tow 11,500 lbs. Finally, the 2021 3.0L Turbo-Diesel engine options can move 11,500 lbs. and haul 2,020 lbs.
If you're looking for an earlier generation, you can get the most power out of a 2019 Ford F-150 by investing in a rear-wheel-drive XL SuperCrew® that has a 6.5-ft. bed and a 3.5L EcoBoost® V6 engine. The Max Trailer Tow Package with 20-inch tires will have a payload reading 3,230 lbs. All 2019 F-150s have a standard maximum of 5,000-lb. towing capacity.
The Max Trailer Tow Package for the 2018 F-150 requires the SuperCrew® and 3.5L EcoBoost® engine.
Advanced Technology Provides Safe and Easy Towing Capabilities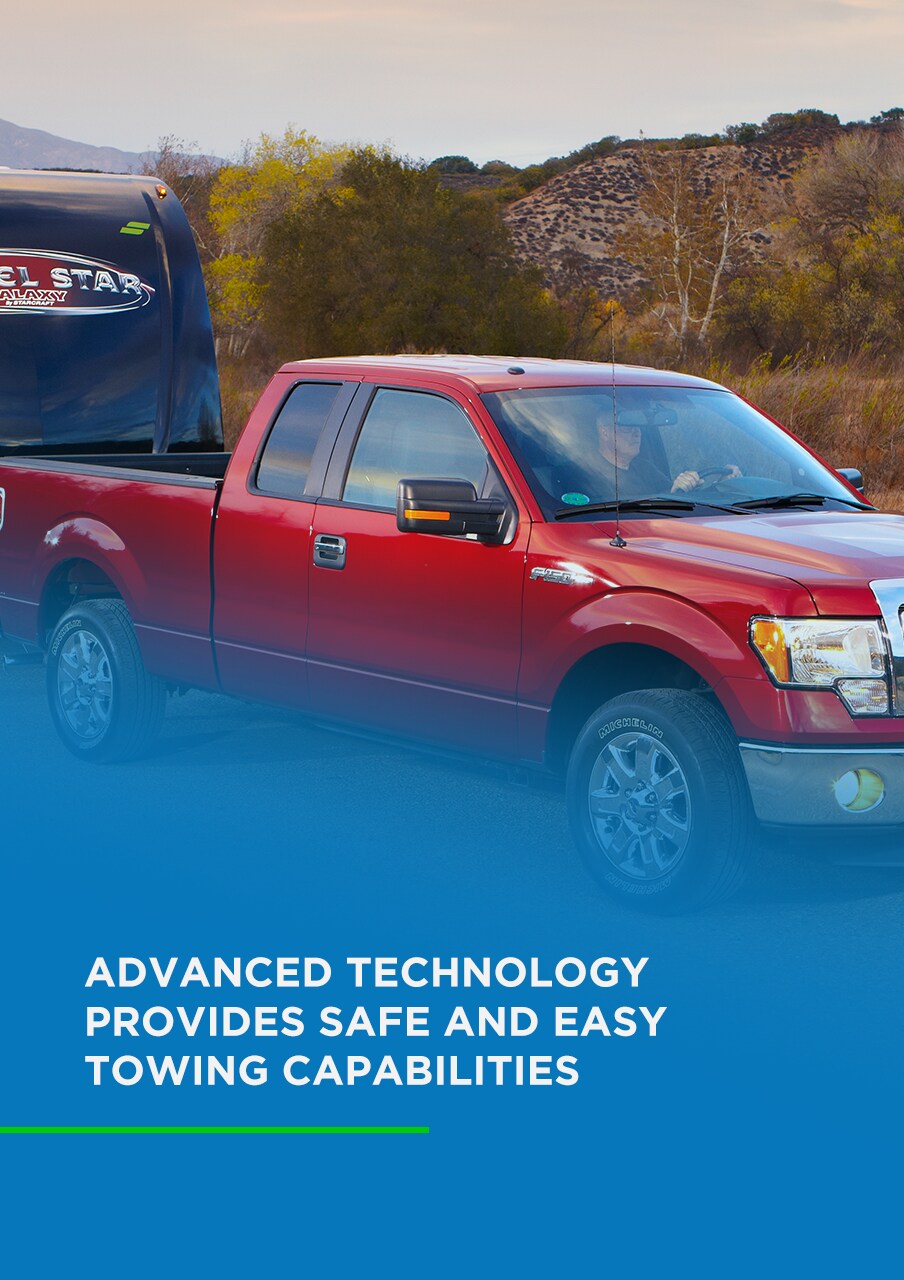 As if the Ford Motor Company didn't already engineer the best-in-class towing capabilities, they also augmented each model with performance enhancers to keep your load steady and safe. The advancements make hitching more manageable, while also providing more visibility behind the truck:
8-inch screen: 

The wide-screen helps you see the detailed trailer information while you're on-the-go.

Blind Spot Information System (BLIS): 

The BLIS alerts you when a vehicle is in your truck or trailer's blind spot. It helps you safely change lanes when towing a trailer.

Dynamic Hitch Assist:

 

Dynamic hitch assist helps you move the hitch to the trailer's receiver. With a line-of-sight guide, the system makes it quick and easy to load your F-150 with a trailer.

Ford Co-Pilot 360™:

 

The Co-Pilot 360 includes the BLIS, along with Automatic Emergency Braking, a Lane-Keeping System and Auto-High Beam Headlamps.

Hill Start Assist:

 

Hill assist aids in preventing vehicle rollback when you're on a steep grade. The technology keeps you steady by maintaining brake pressure until the engine has enough torque to move the F-150 up a hill.

Pro Trailer Backup Assist™:

 Ford Backup Assist synchronizes the truck and trailer when backing up. All you have to do is turn the knob for a simple backup procedure. You control the brakes and accelerator, while the truck does the rest.

Standard Trailer Sway Control:

 

The truck's sway control technology works with the AdvanceTrac® with RSC® system by expanding the truck's stability control abilities.

Technology Package:

 

The technology package comes standard on the Limited F-150, or you can upgrade on other models. It comes with a 360-degree camera that has a split-view display, park assist and dynamic hitch assist.

Tow and Haul Mode:

 The Tow and Haul Mode is useful when working with a heavier load than usual. It boosts your truck's power and decreases gear hunting.

Tow Connector:

 

The connector system alerts you about connectivity, battery or lighting issues on your trailer.

Trailer Brake Controller:

 The advanced technology synchronizes the truck's brakes with the trailer's electric brakes by using vehicle speed, braking input and an anti-lock braking system (ABS).
Backup Assist is one of the most significant features you can have on your half-ton truck. The F-150 is the first truck to offer an impressive and innovative feature that's as simple as turning a button. Because backing up with a trailer is tricky - even for the most experienced drivers - Pro Trailer Backup Assist™ helps you move your trailer left or right by moving the knob.
Benefits of Towing Heavy Loads With a Ford F-150

Every Ford F-150 model upholds the best-in-class payload rating if you have cargo in your trailer or bed. But what are other benefits of towing heavy loads with the 2021 series?
The truck's body and the bed are built from lightweight material to increase its payload capacity. The Ford Motor Company uses military-grade, high-strength aluminum alloy that's lighter but just as durable as steel.
The half-ton truck's six-engine lineup also gives you the benefit of accommodating more applications, whether you need it for work or play. The F-150 is a "smart" truck and loaded with technology. Its tech makes for a safer towing experience through innovations like the BLIS and Pro Trailer Backup with its built-in computer system.
While the pure strength of the truck is one of its top-selling features, Ford doesn't skimp on internal luxuries either. The F-150 has premium cabs options, comfortable seats, a range of powertrains available and a fuel economy has 24 combined miles per gallon (mpg) - which says a lot for a truck that has a maximum towing power of more than 13,000 lbs.
Tips for Towing Heavy Loads
Although the 2021 Ford F-150 and earlier models deliver exceptional tow and payload capacities, along with modern technology, it doesn't give you the clear to neglect your attention, judgment and control over the vehicle.
Before you invest in a truck, you'll want to determine the weight you're looking to tow. Other factors to consider are the gross vehicle weight rating (GVWR) of the truck, curb weight and weight distribution. You will want to choose the tow weight of a Ford F-150 that will exceed your expectations. You don't want to select a truck that can tow at your maximum or a little under. Bigger is better, in this case, to ensure you have enough power.
Quick tip: As you increase trim levels, the truck becomes heavier, taking away from the weight that you can use as payload or tongue weight.
When you know the average and the maximum weight you need to haul, decide on a vehicle configuration that best suits your needs - cab, bed and engine.
Before you start towing, drive your truck at least 1,000 miles, know the GCWR and stay below or at that maximum capacity when towing.
Weight distribution is another critical factor when towing substantial cargo weight. You need to properly load, secure and balance your trailer for optimum handling. Secure your haul to prevent shifting and rolling when you go through a corner or start braking to reduce the risk of damage.
No matter if you're pulling an RV, boat or trailer full of tools, you also want to consider a low center of gravity. About 60 percent of the cargo weight should be at the front of the trailer while 40 percent should be in the back. Think about the cargo's balance from side to side, too, to help with handling and tire wear. The load of the trailer tongue should be between 10 and 15 percent of the total trailer weight.
Other towing tips are:
Allow more distance for braking.

Create extra clearance with passing vehicles.

Downshift when towing uphill and braking down slopes.

Inflate tires to the proper PSI for towing.

Keep more distance between your truck and the vehicle in front of you.

Take your time merging.
Get the Best-In-Class Towing With a Ford F-150
When you're ready to start towing, everything from your work equipment to your recreational toys, Hoffman Ford has new Ford F-150s for sale in Harrisburg. Our engaging and passionate team members will help you find the ideal new or pre-owned F-150 that parallels your exact towing needs. As the premier Ford dealer in Harrisburg, we aim to ensure you receive superior customer service.
Browse our Ford F-150s online or reach out to us for more information. We will help narrow down your towing options to one that fits your expectations and budget.