A broken car window isn't a repair you want to put off, as it exposes your car interior to the elements and makes your valuables vulnerable to theft. If you live in or around Harrisburg, PA, our team of specialists at Hoffman Ford can promptly repair or replace any damaged window on your vehicle, allowing you to get back on the road safely. In this article, we'll discuss the details of each type of window repair we offer. 
Windshield Repair Services in Harrisburg
Damage to your windshield is a major inconvenience. While you might assume a damaged windshield automatically means you need a full replacement, we can repair it if the crack or chip is no bigger than 6 inches and isn't in front of a sensor or camera. 
Many people will put off getting a chipped windshield serviced, fearing that the repairs will be prohibitively expensive, but chip repairs are surprisingly affordable. Depending on your insurance, it may not cost you anything at all. Other reasons to get your chipped windshield repaired include the following.
·     Significant problems could arise later: It may be a small chip now, but it could get larger as time goes on. Larger cracks will eventually require a full replacement, which is costlier and more time-consuming. 
·     A cracked windshield is vulnerable: If another rock hits a cracked windshield, it can cause the whole windshield to crack. 
·     Windshield repair is fast: It usually takes just half an hour. 
·     High-quality replacements: When replacing windshields, we use only top-quality materials. 
·     A repair erases all signs of damage: When repairing a windshield, we inject our resin into the chip, and after it has cured, we polish the repair until it is practically invisible. 
·     We stand behind our work: We back our repairs with our warranty.
·     Convenience: We offer same-day and next-day repairs and, if you'd like, we can come to you.  
Windshield Replacement in Harrisburg, PA
Your windshield provides vital structural support to your car, and also plays a crucial safety role in the event of an accident. At Hoffman Ford, we offer high-quality windshield replacement services at affordable prices. When you come to us to have your windshield replaced, you can expect these benefits.
·     Highly trained and certified windshield replacement specialists: Our technicians must complete a rigorous certification program that includes thorough classroom and hands-on training. 
·     High-quality replacements: Our windshield replacement specialists use only superior materials that have proven to improve your safety while driving. 
·     We stand behind our work: Our replacements all come with a generous warranty. 
At Hoffman Ford, we replace your windshield using an extensive and meticulous process. When you have your windshield replaced, our specialists take the following steps.
1.   Talk to you: Your technician will explain all the steps involved in removing, replacing and installing the new windshield.
2.   Old windshield removal: Your technician will take out your old windshield. 
3.   New windshield insertion: Your technician will put in the new windshield using the most advanced primers and adhesives.
4.   Cleaning: Your technician will clean the windows and vacuum out any broken glass from your car.   
Rear Windshield Repair in Harrisburg, PA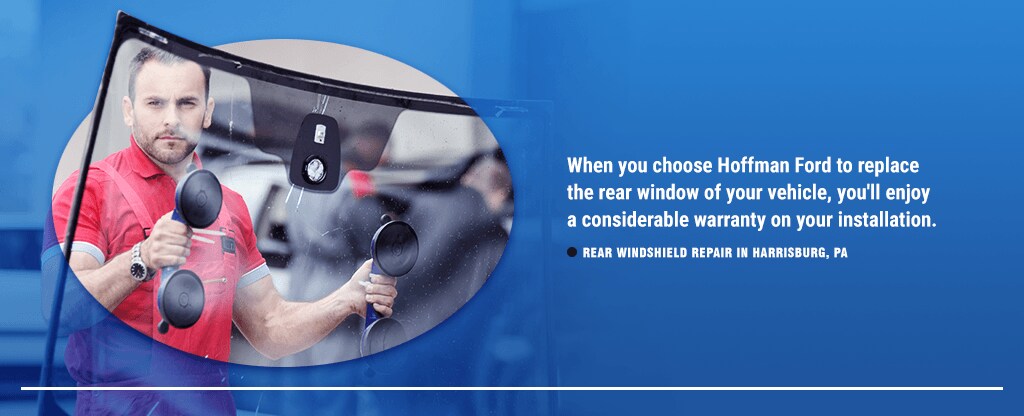 Rear window repair and replacement is often stress-free and fast, with many projects taking only an hour. When coming to Hoffman Ford to get your rear windshield replaced, our specialists will:
·     Carefully examine the damage.
·     Take out the damaged glass.
·     Vacuum out any glass or debris from your vehicle.
·     Put in a high-quality rear windshield replacement.
·     Ensure any technological capabilities, such as defrost, are working.
·     Clean all glass on your vehicle. 
When you choose Hoffman Ford to replace the rear window of your vehicle, you'll enjoy a considerable warranty on your installation. If the damage affects your safety, our specialists can repair your rear windshield the very same day. Consider these other benefits you can expect with our rear windshield replacement in Harrisburg, PA.  
·     Quality checking: When we replace your back window, we quality check it to ensure it meets your vehicle's installation requirements.
·     Certified, highly trained technicians: We require our rear window replacement to pass our certification program, which involves extensive classroom and hands-on training. 
·     Identical matching: We ensure that your new rear windshield is the same size, shape and contour as your original windshield. Because the match will be perfect, we won't need to force the glass or rework it with adhesives, which can lead to water leaks, stress cracks and adhesion issues. 
·     Fast turnaround: We can replace your rear window in as little as one hour. 
Power Window Repair and Replacement in Harrisburg, PA
Windshields are not the only type of auto glass damage - sometimes, the side windows also get cracked or shattered. 
If you need side window replacement in Harrisburg, time is of the essence. Broken windows expose the interior of your car to the harsh natural elements and your valuables to theft. If your window got smashed in an accident or broken from debris on the road, coming to Hoffman Ford is the quickest and best way to get your window repaired. 
When you trust Hoffman Ford for side window repair in Harrisburg, our specialists will: 
·     Closely and carefully examine the damage. 
·     Take out your door panel to gain access to the remaining glass.
·     Vacuum out glass and debris from your vehicle.
·     Put in a new side window.
·     Test the regulator to make sure your window is working correctly. 
·     Replace your door panel. 
·     Clean all glass on your vehicle. 
When getting a side window replacement from Hoffman Ford, you can rest assured that your experience will be stress-free and easy. We complete this service quickly and efficiently, so you can leave our lot with a window that's safer and stronger. 
Windshield Camera Recalibration
Do you have a camera attached to your windshield? This camera is a component of your car's advanced driver assistance safety system (ADAS). Its purpose is to improve your safety while driving. 

ADAS systems protect you and your passengers by creating a "force field" around your vehicle to reduce the chance of collisions. These protective systems work in concert to improve safety by notifying you of potential issues and avoiding accidents. They can warn, aid and assist. Examples include:
·     Forward collision warning
·     Emergency braking
·     Lane departure warning
·     Lane keep assist
·     Collision avoidance
·     Pedestrian detection
The camera is a crucial part of ADAS, so if your windshield gets damaged and needs a replacement, most car manufacturers require camera recalibration. At Hoffman Ford, we can often replace your windshield and recalibrate your camera in a single appointment. Our technicians have years of experience with recalibrating these cameras to ensure you and your car stay safe. 
There are two main types of windshield camera recalibration.
·     Dynamic recalibration: This kind of recalibration requires driving the vehicle on clearly marked roads at a specific set speed. 
·     Static recalibration: During this type of recalibration, we affix an image to a target in front of your car.
Contact Hoffman Ford for Windshield Repairs and Replacements
If any of your windows are cracked or broken, have them repaired or replaced right away with the specialists at Hoffman Ford. Book a service appointment with us today.