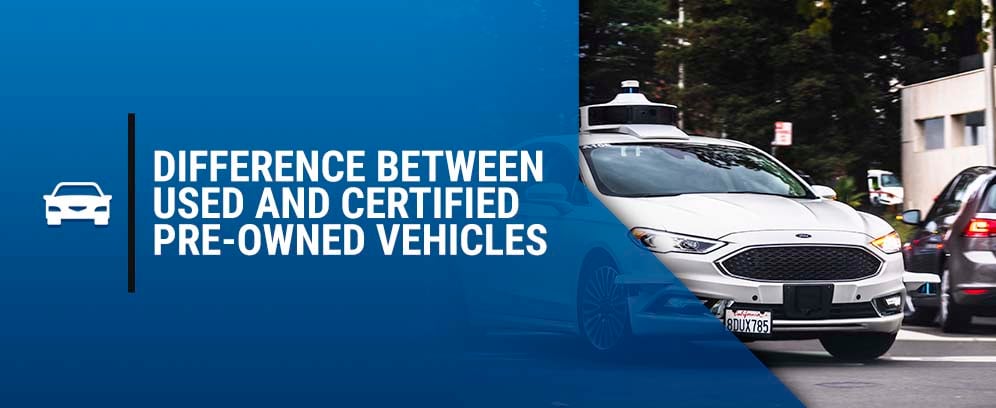 If you're in the market for a vehicle, you'll need to know the differences between certified pre-owned and used vehicles. Purchasing in a car can be a big investment, and you want to make the right choice by selecting a vehicle that's going to hold up for the long-haul. As you look for a car, you'll likely see the terms "used cars" and "certified pre-owned cars" come up, and you may not know the difference.
To ensure you go into the buying process fully informed, find out what a certified pre-owned vehicle is and the differences between used and pre-owned vehicles.
What Is a Certified Pre-Owned Car?
Certified pre-owned means a car is a used vehicle that meets several different criteria. For one, it must have low-mileage - somewhere between 60,000 to 80,000 miles. These kinds of vehicles are also backed by a warranty.
In addition to a warranty and low-mileage, they should be no older than five to seven years, depending on the manufacturer. Importantly, all pre-owned vehicles will have gone through an in-depth multi-point inspection before being offered for sale. Often, the car's manufacturer will provide extra features to the car that buyers wouldn't get by purchasing a used car.
A certified pre-owned vehicle offers car buyers a middle ground between buying either a brand new or used vehicle. A new vehicle often comes with a higher price tag, while a used car can come with some question marks about how it was maintained previously. A certified pre-owned car addresses both of these concerns by offering lower prices than new vehicles, while also offering significantly more information about the vehicle in question.
Ford's Pre-Owned Car Certification
A Ford-Certified Pre-Owned car has to have fewer than 80,000 miles recorded on the odometer as well as be less than six years old. Besides these requirements, it also undergoes a 172-point inspection to ensure the vehicle runs well and is set up to run for a long time. Additionally, Ford dealerships have to run a CARFAX® Vehicle History Report™ to check to see if a vehicle meets the standards set by the manufacturer.
How Does a Car Qualify for Certification?
A car goes through multiple steps before it qualifies for certified pre-owned status. When a dealership receives a used car through a lease return or trade-in, they will evaluate it to see if it can qualify as a certified pre-owned vehicle. If it can, the pre-owned car will go through a rigorous inspection to make sure it meets all of the relevant points of certification.
Manufacturers often require dealerships to follow qualifications for certification that ensure the car is sold in excellent condition. It needs to run as good as new, and it should also be in top shape cosmetically. Again, qualification also relies on the mileage of the vehicle and how old it is.
If a car doesn't meet the high standards for pre-owned certification, it will often be sold as a used vehicle instead. However, if the issue is mechanical or cosmetic, sometimes the dealer will repair the vehicle with manufacturer-approved parts to meet the standards of the certifications.
In Ford's certification process, a car can only qualify after passing its 172-point inspection. This inspection covers a road test, diagnostics, vehicle history, hybrid systems, convenience features, underbody/underhood components and interior/exterior appearance.
Who Certifies Vehicles?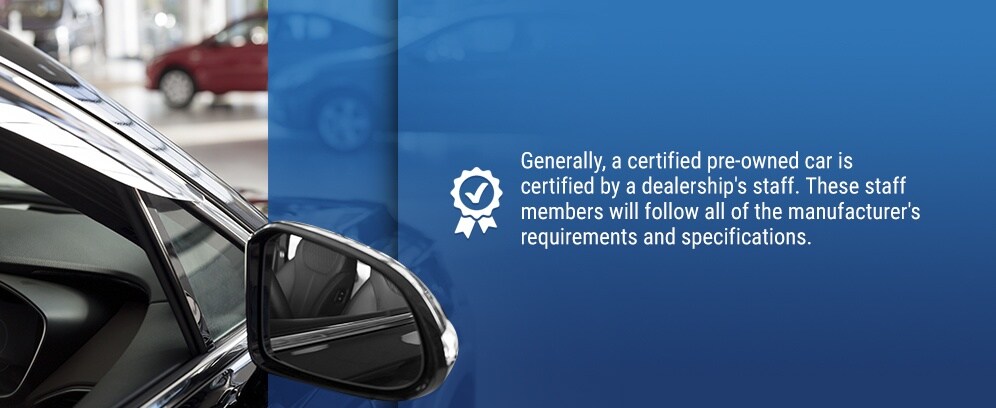 Generally, a certified pre-owned car is certified by a dealership's staff. These staff members will follow all of the manufacturer's requirements and specifications. Even though the dealer will often inspect and repair the certified pre-owned car, the vehicle will still receive a manufacturer's warranty, just like you would get if you bought the vehicle brand new.
For Ford vehicles, Ford factory-trained dealer technicians conduct the Ford-Certified Pre-Owned certification process. They run a CARFAX® Vehicle History Report™ to check the vehicle's history for any factors that would disqualify it for the certification.
Additionally, these expert technicians perform the 172-point inspection to get a complete picture of the car's quality, replacing any components that don't make the cut with a factory-authorized part. Ford Motor Company-franchised Dealers are the only dealerships approved to sell Ford-Certified Pre-Owned vehicles.
The Differences Between a Used and Certified Pre-Owned Vehicle
While both used and certified pre-owned vehicles have had a previous owner, there are a lot of differences between them. For example, certified pre-owned vehicles will often be sold at a higher price than other used vehicles, but they are also less expensive than new vehicles. Used and certified pre-owned vehicles differ in many other ways, and any buyer should be informed about them before they make a purchase.
Learn more about the top three differences between certified pre-owned and used cars:
1. Inspections
A big difference between certified pre-owned and used cars is the inspection process they each have to undergo. Used cars are much less likely to go through an extensive vehicle inspection process, and as such, are more likely to experience more maintenance issues in the first few years of use after purchase. If you buy a used car, you should also hire someone to perform an independent inspection of the car as well.
In contrast to used cars, certified pre-owned vehicles will go through a detailed inspection that attempts to identify any possible maintenance issues that could harm the car's performance or appearance. Unlike used cars, you can also trust that certified pre-owned vehicles have had repairs done to any areas that the inspection turns up. Any replacement parts will also be manufacturer certified.
2. Warranty
Used vehicles will also usually not come with a warranty. If they do, they'll likely only come with the remaining time on the factory warranty - if the warranty is transferable between owners. Certified pre-owned cars come with warranties like you'd receive if you were purchasing the vehicle entirely new. Certified pre-owned vehicles often come with extended warranties and other manufacturer-specific services.
Ford-Certified Pre-Owned vehicles all come with a 12-month or 12,000-mile comprehensive limited warranty that covers over 1,000 components. Additionally, Ford also provides a seven-year or 100,000-mile powertrain limited warranty coverage.
3. Where They're Bought
Where you can buy used and certified pre-owned vehicles will also change as well. Private sellers and official manufacturer dealerships can both sell used vehicles. In contrast, certified pre-owned vehicles can only come from official dealerships. You can trust these dealerships to have done the needed inspections for certifications. They often can provide you with financing options for your pre-owned vehicles, as well.
You'll also usually have to do more homework on private sellers and exclusively used car dealerships. If you see a non-manufacturer approved dealership offering certified pre-owned vehicles, you should be very skeptical of these claims. Since manufacturers like Ford only allow approved dealerships to sell certified pre-owned, it's likely that the non-approved dealership is lying to customers. For this reason and for peace of mind, it's often a better choice to stick with a manufacturer dealership.
Contact Hoffman Ford for Certified Pre-Owned Vehicle
In the market for a pre-owned vehicle? Come to Hoffman Ford to find your next car in pristine condition and at an affordable price. Our certified pre-owned vehicles come with limited warranty coverage, a 172-point checklist, 24-hour roadside assistance and a vehicle history report. Since 1953, we've been serving Central Pennsylvania, helping buyers find vehicles that they love, and we hope to provide that experience to you as well.
Browse our selection of certified pre-owned vehicles today to find the perfect vehicle for your needs at the best prices around. If you have any questions, contact us today to speak with one of our friendly representatives.