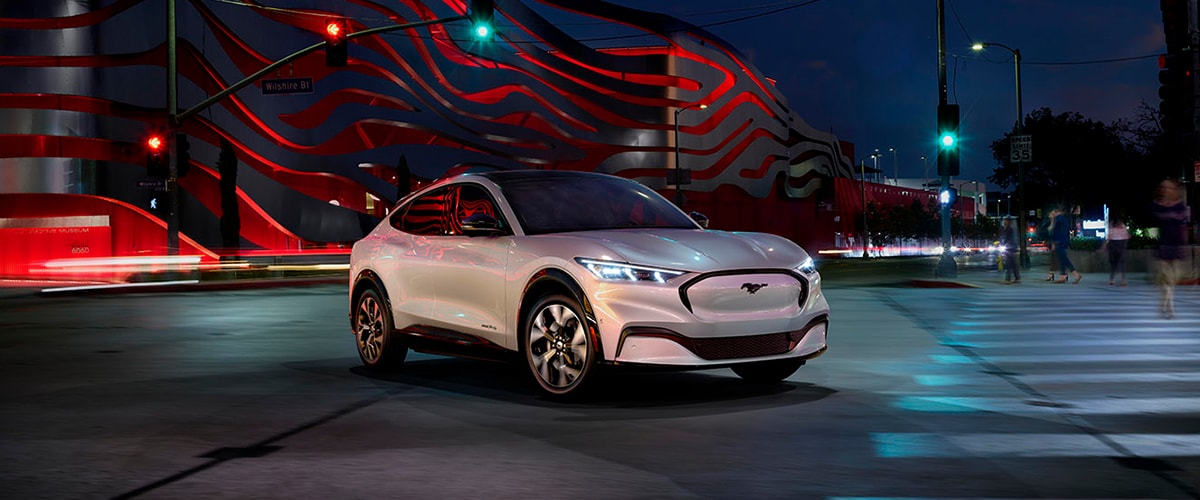 The 2021 Ford
Mustang Mach-E
An Electric New Addition To The Mustang Family
Built from all the passion of its iconic heritage, Mustang Mach-E is a new shape of freedom. Get ready for 0-60 thrills with zero emissions.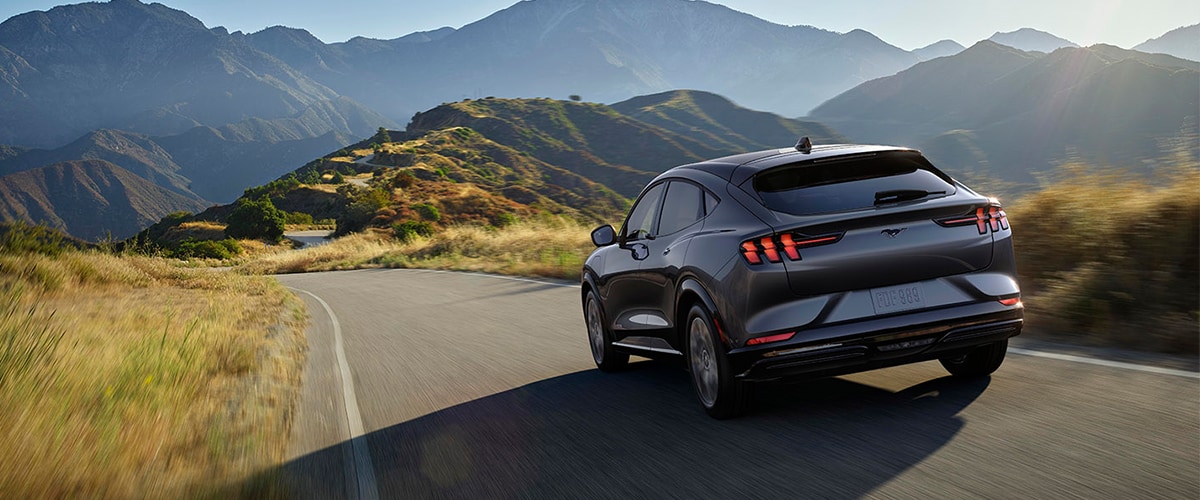 Intuitive Technology
The Mustang Mach-E features connected tech designed to provide a driving experience that's centered around you.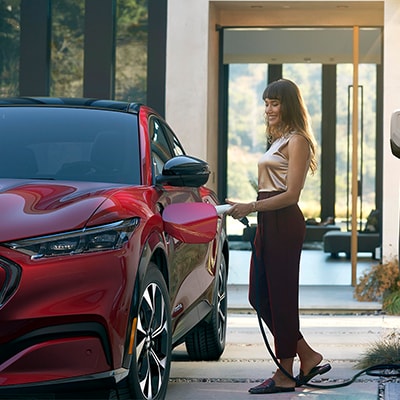 Driver Profile and Personalization
Mustang Mach-E recognizes you as soon as you get close using your Phone As A Key. Then it automatically adjusts the seats, mirrors, radio, lighting and instrument panel just the way you like it.
Drive Experiences
Your Mustang Mach-E will match your mood. You can select your Drive Experience to fit the moment-and the interior sound, lighting, and even the responsiveness will adjust to your style - whether it's Unbridled, Engage or, when necessary, Whisper.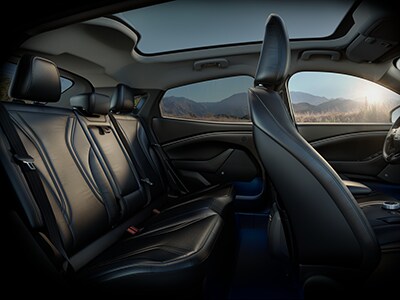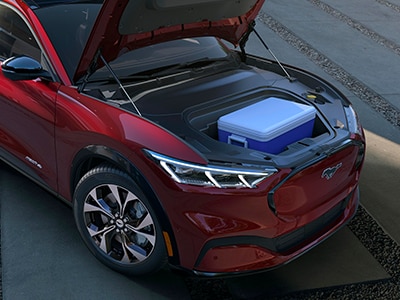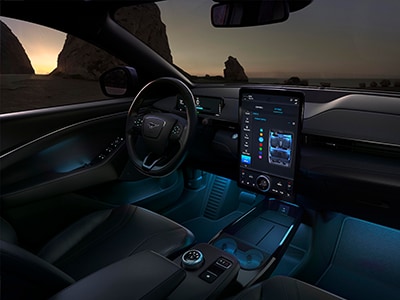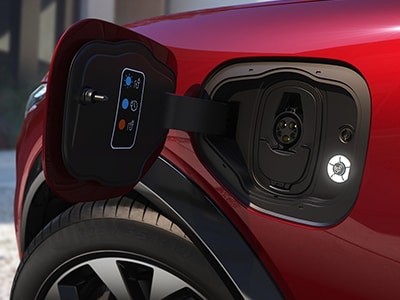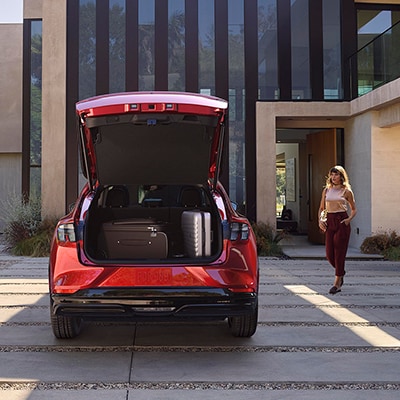 The Luxury of Space
Exhilaration is better when it's shared. An impressively spacious interior with plenty of legroom means everyone will love the ride.
Front-Load Freedom
A convenient front trunk levels up your adventure game. Not only is this added 4.8 cu. ft. of storage space water-resistant, it's washable and features a convenient drain, making it perfect for tailgating, camping and muddy gear-toting.
Exhilarating Performance
With the first all-electric member of the Mustang family, Ford harnessed the power of electrification to craft a vehicle that's as exciting to drive as its predecessors while also delivering a new, uniquely tailored experience. There will also be a  Mach-E GT - targeting 0 to 60 mph in less than 4 seconds*, making it faster off the line than a Porsche Macan Turbo3 - and a GT Performance Edition, targeting 60 miles per hour in the mid-3-second range - comparable to a Porsche 911 GTS - as well as an estimated 342 Kw (459 horsepower) and 830 Nm (612 ft.-lbs.) of torque.
Full Capability
Available electric all-wheel drive delivers exceptional handling and capability. Front and rear motors distribute power to individual wheels, so it can help you take on snowy roads.
Driving Ease with Next Generation SYNC
The new intelligent, voice-activated, next generation SYNC® provides a driving experience that's designed around you. As intuitive as your smart phone, its user-friendly design makes it easy to personalize and update your drive right from your mobile device or on your computer.  Other highlights include cloud-connected navigation, a customizable cluster screen and premium 15.5-inch touchscreen and modem-based over-the-air updates. It can even help you locate your next charge.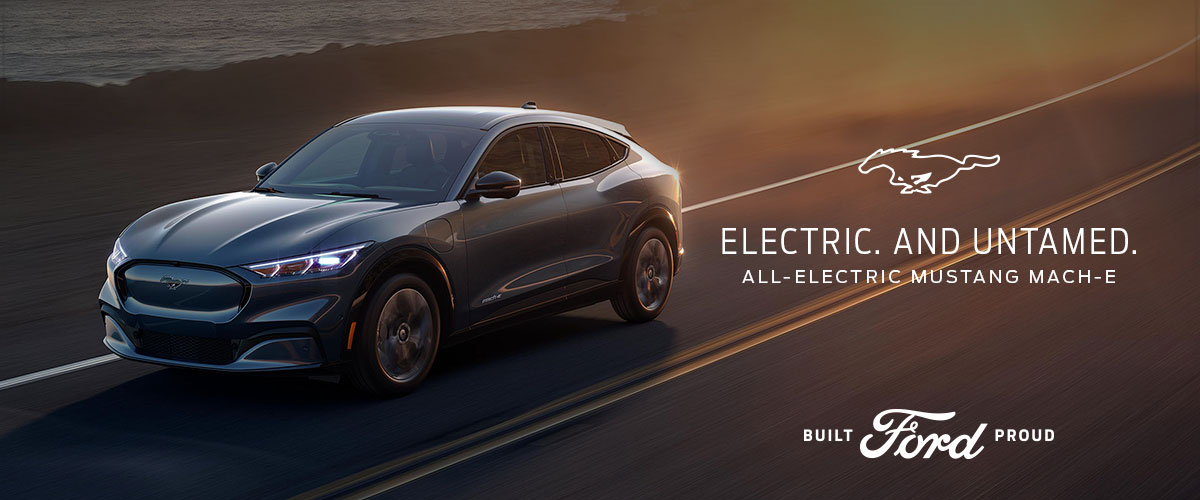 Eager to Learn More?
Stop by our dealership to learn more or fill out the form below to start reserving your 2021 Ford Mustang Mach-E today!
Make an Inquiry
Ford Mustang Mach-E
Ford enthusiasts are familiar with the iconic Pony emblem and Mustang name dating all the way back to 1964. Drivers are always on the lookout for the latest innovations behind the wheel, which sparked the inspiration behind the all-new 2021 Mustang Mach-E. Imagine the sleek rounded edges and signature lights of the Mustang in an SUV build with electric components under the hood.
The 2021 Mustang Mach-E is the perfect combination of Ford engineering and practicality. Achieve sports car styling with zero emissions by pre-ordering your vehicle at Hoffman Ford. In case you're unsure which package is right for your applications, we put together the following guide to steer you in the right direction.
What Is the Mustang Mach-E?
The Mustang Mach-E offers drivers a new perspective on one of the world's most famous sports car brands. This all-electric model is straight out of the future, with multiple trims to give you the ultimate driving experience. Hitting the consumer market toward the end of 2021, this model shows that Ford continues to outperform the competition with a unique platform sure to catch eye on daily commutes, road trips and beyond.
This compact crossover SUV combines the visual DNA of a traditional Mustang with a spacious cabin for up to five passengers. Hoffman Ford is proud to offer customers this revolutionary release in the following colors:
Rapid Red
Star White
Infinite Blue
Carbonized Gray
Shadow Black
Iconic Silver
Space White
Ford Mustang Mach-E Key Features
Besides being all-electric, select Mach-E models showcase all-wheel drive to help you prepare for snow, inclement weather and changing terrains. This release is optimized for storage and long-distance travel, with charging capabilities and a second storage area located under the hood. You can gain 4.8 cubic feet of additional storage space thanks to the lack of a running engine at the front of the vehicle.
The front-end storage area is water-resistant and equipped with a drain for outdoor activities and seamless cleaning. Ford fans will be happy to discover the full-size Panoramic Fixed-Glass Roof with insulation advancements for year-round comfort. You can even use your mobile phone as a key via the FordPass™ app.
Ford Mach-E Select
If you're interested in entering the world of electric SUVs, the Mach-E Select package is the way to go starting at $43,895. You'll be able to drive up to 230 miles on a full charge, and this package is able to hit 0-60 mph in just five seconds. The 18" aluminum wheels will give you the option of all-wheel drive or rear-wheel drive, and releases at this trim level feature bright LED lights and Mustang sequential rear turn signals.
Enjoy a 10.2" digital cluster and a 15.5" infotainment center touch screen with navigation functions. The Mach-E Select package comes with Ford Co-Pilot360™ 2.0 and Assist 2.0 technology for safety. These systems are in place to provide you with pre-collision assistance, lane detection, auto-dimming high beams, post-collision brake activation and more.
Ford Mach-E Premium
Standing as an upgrade to the Select package, the Mach-E Premium trim is available for pre-order beginning at $50,600. This vehicle has slightly larger aluminum wheels measuring at 19", and drivers can use front-row heated seats during winter months. The Premium line is compatible with the FordPass™ mobile app and able to remember driver-specific seat settings for convenience.
This Mustang is packed with a 10-speaker B&O sound system and 360-degree camera. Everything that arrives standard with the Mach-E Select comes with the Premium package and advanced models.
Ford Mach-E California Route 1 Edition
The Ford Mustang Mach-E California Route 1 Edition is designed for maximum efficiency at $52,400. This series changes back to 18" wheels, but rims and inserts are crafted with aerodynamic improvements. An extended-range battery allows this vehicle to travel approximately 300 miles on a full charge, and orders display California Route 1 badging along the exterior.
Ford Mach-E GT
The Ford Mach-E GT option gives drivers performance upgrades at $60,500. This model earns the GT badge with the power to go from 0-60 mph in only three seconds. The 20" cast aluminum machine-face wheels are racing-inspired and help make this package the most aggressive one in the 2021 Mach-E release.
Pre-Order Your 2021 Mustang Mach-E at Hoffman Ford
Hoffman Ford wants to help you select the perfect Mustang Mach-E trim to match your lifestyle. We are now accepting pre-orders for the latest additions to the Mustang family, so feel free to stop by our location in Harrisburg, PA, for further information. Give us a call at 888-887-3591, or fill out a contact form to kickstart the design process today!